VicLouis Arreola III, director
The director of the Asian/Pacific Ministries of the Pacific Union Conference works with the seven local conference coordinators and group representatives in serving 15 language groups and supporting the outreach, ministry, and growth of the Asian/Pacific churches and companies in the states of Arizona, California, Hawaii, Nevada, and Utah. The department coordinates its pastoral and lay training through the Pacific Institute of Christian Ministry (PICM), oversees various annual evangelistic meetings and other special events within these churches, fosters unity and fellowship, and provides mentoring and financial assistance to all Asian/Pacific congregations in the Pacific Union to enhance their outreach and nurture ministries.


About VicLouis Arreola III
On August 29, 2011, Dr. Arreola was voted as director of Asian/Pacific Ministries for the Pacific Union Conference. He also serves as director of the North American Division (NAD) Asian/Pacific Ministries. He works with 25 language groups and leads the Asian/Pacific Seventh-day Adventists in North America. As a church growth strategist and executive leadership coach, his passion is to teach church leaders in growing and nurturing healthy congregations. He has mentored and trained pastors, Bible workers, and lay leaders in North America and abroad. Furthermore, Dr. Arreola is the president and founder of the Pacific Institute of Christian Ministry (PICM) and he pioneered the planting of the first Filipino Seventh-day Adventist Church in Hawaii. He has a rich background as a church planter, international evangelist, senior pastor, departmental director, radio and television speaker, pastoral counselor, and adjunct professor. He serves as speaker of "Our Great Hope Ministries," an evangelism series that he conducts together with his wife, Dr. Imelda Cid Arreola, as family health lecturer and educator, and with his son, Pastor VicLouis (Vil) Arreola V, as associate speaker. Dr. Arreola holds a bachelor's degree in theology from Mountain View College, a master's degree in religion and health from the Adventist University of the Philippines, and a master of theology from the Seventh-day Adventist Theological Seminary. He has doctorate degrees from La Salle University and Evangelical Theological Seminary.
Phone: 805-413-7350
High Resolution Photo of VicLouis Arreola III
Click here to see partial list of Asian/Pacific churches
---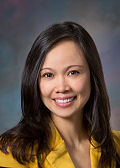 Maricel P. Felarca, administrative assistant

After working for over seven years at the Northern California Conference Office of Education, Maricel moved to the Pacific Union Conference on June 1, 2013. She serves the Asian/Pacific Ministries and Stewardship Department. She had worked at the Southern Asia-Pacific Division (SSD) for more than four years before immigrating to the U.S. in 2003. She is a Certified Administrative Professional with a specialty in Organizational Management (CAP-OM). She is an active member of the International Association of Administrative Professionals (IAAP) and currently holds a Member of Excellence status for meeting the Pathways to Excellence requirements of this premier association. Maricel is also an Enrolled Agent (EA) for the IRS, the highest credential the IRS awards.









---
2016 Tri-state Filipino Convocation
"A Finished Work Now!"
HIlton Garden Inn, Rockaway, New Jersey
July 22-24, 2016

Guest Speakers

Dr. VicLouis Arreola III
President, Pacific Institute of Christian Ministry
Director, Asian/Pacific Ministries | Field Liaison, Ministerial Department
North American Division


Dr. Earl Knight
President, Greater New York Conference

Dr. Jose Cortes
President, New Jersey Conference


>> Click here to register. Discounts apply until July 1, 2016 <<

"When I think of the cities in which so little has been done, in which there are so many thousands
to be warned of the soon coming of the Saviour, I feel an intensity of desire to see men and women
going forth to the work in the power of the Spirit, filled with Christ's love for perishing souls."
Testimonies Vol.7, p.40, 1902.

"God could have reached His object in saving sinners without our aid;
but in order for us to develop a character like Christ's, we must share in His work.
In order to enter into His joy,—the joy of seeing souls redeemed by His sacrifice,
—we must participate in His labors for their redemption."
Desire of Ages, p.40, 1898.



Sponsored by the North American Division Asian/Pacific Ministries
in coordination with Pacific Institute of Christian Ministry,
Greater New York Conference, New Jersey Conference, and Atlantic Union Conference



For inquiries, reach out to your coordinators, or Pastor James Wong (NY), Pastor Manny Jardiniano (NJ), and Pastor Jeb Bersabal (CT/other states). Coverage by GNYC Adventist News. Livestream through Bukal ng Buhay, begins July 22, 2016, 6PM Eastern Time.